100% Moneyback Guarantee
4-day Boot Camp by experienced instructors (Success Rate - 99%)
200,000+ students trained
37 PMI approved Contact Hours for PMP Exam Eligibility
60-day access to online PMP exam prep course (Gold Plan worth $149.95), which includes:
Free 30 PMI PDUs this satisfies continuing education requirements for the first year for certified PMPs.
Assistance in filling PMI application form
High-quality, comprehensive study material - You need not bring anything to the class
Case Studies and Role–plays
Lunch and 2 coffee/tea breaks (with snacks)
Mobile apps for learning on the go
Course completion certificate
Valuable exam taking tips
Work experience calculator
Moneyback Guarantee
PMstudy
Other training providers

Attractive Moneyback Guarantee terms in the industry More
Best Moneyback Guarantee: The only conditions for the Moneyback Guarantee are that you attend the 4-day boot camp, study during the 4 days of the class, and take the PMP exam within 30 days of the last day of the classroom program.

Have very stringent conditions on refunds, and do not have the reputation of adhering to their Moneyback policies.
Require you to pass their own internal assessment test on the last day of the class for the Moneyback Guarantee to be valid.
Deduct administrative fees, so the refund is not actually 100%.
Provide only a Pass Guarantee, which is misleading because no provider can guarantee that their student will pass PMP exam.
Exam Ready on Day 5
PMstudy
Other training providers

Do minimal prep work to get 37 PMI® contact hours and apply to PMI for the PMP Exam before the class begins.
Attend class even without doing the prep work and benefit from the boot camp.
Study for 4 days and do your homework. Then, take PMP exam on the day after the class and PASS!
The PMstudy course is comprehensive and provides with everything to make you successful in the PMP exam—no other study materials or reference materials are required.

Mandate that you should do a lot of prep work before attending the classroom boot camp.
Require you to study for weeks after the boot camp (which means that you do all the studying on your own after the class).
Provide the contact hours only after attending the boot camp

* You would be better off taking the economical and high-quality 100% online PMstudy GOLD Plan starting from $199.95, which provides the 37 contact hours required for the PMP exam.
Experienced Faculty
PMstudy
Other training providers

PMstudy prides itself on the quality of its faculty, who are the best in the industry, have 15+ years of project management experience, and have been trained in PMstudy boot camp techniques and adult learning processes to deliver an exceptional training experience. More
You will usually be taught by a faculty in your local area who understands the local issues and relates to project management concepts through appropriate examples, role plays, and case studies.

Do not provide correct information about their faculty on their websites or marketing collaterals. These companies may not have faculty with proper experience, communication skills, or ability to teach senior professionals.
Refuse to share the faculty details before the program.
99% Success Rate
PMstudy
Other training providers

PMstudy has a success rate of 99%. This rate indicates that 1% of the total students have exercised their option to get their moneyback.
The success rate can be attributed to the quality of our study materials, proven study methodology, and our experienced faculty.

Do not provide any success rate.
Provide incorrect details to justify their success rate.
Great Value and Lowest Price
PMstudy
Other training providers

PMstudy courses start at $ 1899 after the early bird discount - the lowest price for such a high-quality course.
Additional discounts available for corporate classes, or bulk enrollments. To enquire about corporate classes or bulk enrollments, please Contact Us.
The 4-day boot camp ensures that you have everything you need to prepare for the PMP exam.

Keep decreasing their prices as you bargain with them. These providers usually do not have the costs associated with running high-quality training classes or paying highly qualified faculty like PMstudy does. They offer low-quality training primarily to offer 35 contact hours to apply for the PMP exam. If your objective is not a boot camp to pass the PMP exam, but just to get the 35 contact hours mandatorily required for the PMP exam, you could get it for as little as $199.95 by enrolling in our online course's GOLD Plan with Contact Hours.
Specialized in Project Management Training
| PMstudy | Other training providers |
| --- | --- |
| We provide more focused training on project management. Further, we discuss case studies and role plays that relate the important concepts to real-life scenarios. | Do not focus on project management training and only prepare students for the PMP certification exam. |
Free Assistance in Filling the PMI application
PMstudy
Other training providers

PMstudy provides you the free tool that helps in filling out the PMP application forms and calculating the work experience. To access our free tool, please click here.
Classroom students may take help from our PMP certified faculty in filling out the PMI application form, if required.

Do not help in filling out the form until payment for the course is received, whereas several free tools like PMstudy's are available for the same purpose.
Do not let students contact the faculty for any kind of assistance before or after the classroom program.
Guaranteed to Run Classes
PMstudy
Other training providers

All our classes are guaranteed to run. In the unlikely event that PMstudy cancels a class, you will have the following options:

You can transfer to any convenient PMstudy virtual class within 1 month (this is the preferred option): All our virtual classes are guaranteed to run. All the benefits of the physical class are available in the virtual class, which can be taken from the comfort of your home or office.
You may transfer to a PMstudy class in another location or to a future class in the same location: Some amount will be reimbursed to you toward your travel expenses.
Reschedule to a future class in any location: Students can opt to reschedule to a future class in any location. The amount paid for the PMstudy class will be applied toward the future class.
Ask for a full refund: Students can opt for a full refund of their payment in case of course cancellation by PMstudy. They can also retain the contact hours they have received through the PMstudy Preparatory Program.

Keep cancelling their classes because of insufficient enrollment and leave students without any alternatives.
Delay in reimbursing students for the money they paid for their classes.
Several Convenient Locations
PMstudy
Other training providers

PMstudy teaches more classes in more locations than any other PMP boot camp provider in US/Canada . Training with the leaders assures you of the PROVEN QUALITY training at locations convenient to you.
Why train with small, unknown players when you have the option to train with the leader that has assured training methodology?

Have limited locations and classes.
Have few success stories and limited history of success.
Announces classes in many locations but cancels most of those classes, without providing any flexible options.
Great Feedback from Students
PMstudy
Other training providers

PMstudy has students from many companies including Motorola, JPMC, American Express, Microsoft, HP, Bank of America, Prudential, Dell, Ford, Hartford Hospital, Accenture, David Evans, LMI, Bank of Montreal, IRS, and Bell Canada. More
For feedback on PMstudy, check out our Facebook page or read through our student feedback. More
We are confident in our course and allow students to ask for references from past students in their company (PMstudy has students from over 3,500 companies in more than 160 countries). To ask for references from people in your company, please click here.

Mention limited student feedback on their website.
Do not have an active social media presence (e.g., Facebook, LinkedIn, etc.) where students can share their experiences and provide their feedback.
Show negative student reviews when you go through google.com or MSN.com and search for "reviews" or "feedback" of such companies.
Do not provide references from past students.
Other Benefits
Free 30 PMI approved PDUs: PMstudy's classroom students get free 30 PMI PDUs - this satisfies continuing education requirements for the first year for certified PMPs.
30-days access to online PMP exam prep course (Gold Plan worth $149.95) which includes:


Trainings are conducted in star hotels - Lunch and 2 rounds of coffee/tea and snacks are provided during classroom sessions.
High quality, comprehensive classroom study materials - nothing additional needs to be brought to the class.
Enough time to apply for PMP Exam: If you join PMstudy early, PMstudy will provide you with 37 PMI approved contact hours through a simple online preparatory program (which can be completed in a few hours of study). So you can get your contact hours early and have enough time to apply for the PMP exam; you can then schedule your PMP exam soon after the PMstudy.com classroom training.
Lower cost of training: To encourage students to enroll early, PMstudy.com provides $100 as an "Early Bird Discount."
Availability of classes: PMstudy classes sell out very fast. So by enrolling early, you ensure that you can take one of the BEST PMP Exam Prep classes and not have to postpone your PMP exam preparations because of non-availability of PMstudy classes.
Overview of the PMP Exam Application Procedure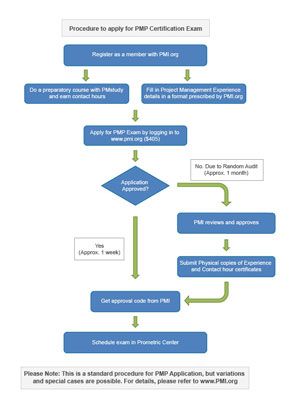 All courses after Monday, October 1, 2018 are priced at $1,899 after the $100 EBD.

Class Timings: 8:00 AM - 6:00 PM (Local Time) except otherwise stated.
Las Vegas, NV
1 Oct 2018 to
4 Oct 2018
08:00 AM - 06:00 PM
$ 1999
Las Vegas, NV
5 Nov 2018 to
8 Nov 2018
08:00 AM - 06:00 PM
$ 1899*
Las Vegas, NV
3 Dec 2018 to
6 Dec 2018
08:00 AM - 06:00 PM
$ 1899*
Las Vegas, NV
7 Jan 2019 to
10 Jan 2019
8:0 AM - 6:0 PM
$ 1899*
Las Vegas, NV
4 Feb 2019 to
7 Feb 2019
8:0 AM - 6:0 PM
$ 1899*
Las Vegas, NV
4 Mar 2019 to
7 Mar 2019
8:0 AM - 6:0 PM
$ 1899*
Regular PMP Exam Prep classes are also available in various other locations

* : Price after early bird discount (if you enroll more than days before the course start date, and if seats are available)