Authorized Training Partner Program for in-house training
PMstudy's "Authorized Training Partner" program is valid for companies, universities, and independent consultants interested in providing PMP® Exam Prep training to their employees/students through in-house trainers/faculty.
If you have in-house trainers/faculty available and have more than 100 participants, you can choose this program. This model is not only economical, but also very effective.
With time-tested and proven PMstudy training methodology and study materials, your trainers can successfully learn and then follow the same methodology and study materials to train and prepare your employees/students to take the PMP exam.
In this option, the Moneyback Guarantee is optional.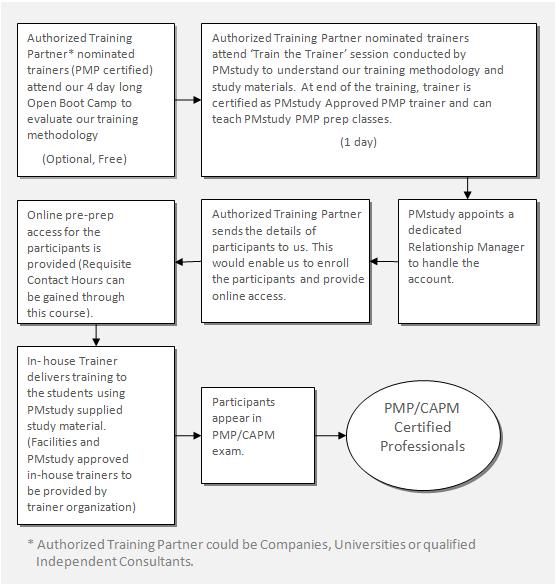 Please note:
Authorized Training Partner program is open for any interested company, independent consultant, or university which can guarantee at least 100 students per annum.
PMstudy will provide all study materials including online access. The Authorized Training Partner will use its own training facility and trainer, who must be a PMstudy Approved PMP trainer.
Email marketing@pmstudy.comwith your requirements and we will respond promptly.
Pricing:
Training cost (One time training for PMstudy PMP prep)
Optional Open Boot Camp Price

Train the Trainer session price

Free

*


(4 Days)
$1000/participant + Instructor travel cost at actual
(1 day)
*
Evaluation of PMstudy program can be done by certified PMPs for free. Access will be provided to PMstudy online course and the PMstudy classroom training/study materials. Please, note that such free access is restricted to one nominated trainer from each company � additional participants would have to enroll as students and pay $1,800 per participant.
Cost for licensing PMstudy study material
PMstudy material package without Moneyback Guarantee

PMstudy material package with Moneyback Guarantee

**

$ 650 / person
$ 800 / person

**

For more details on our money back guarantee click here.