Tour - PMI® approved contact hour courses by PMSTUDY, WHICH IS A BRAND Of VMEdu, Inc., A LEADING PROJECT MANAGEMENT PREP COMPANY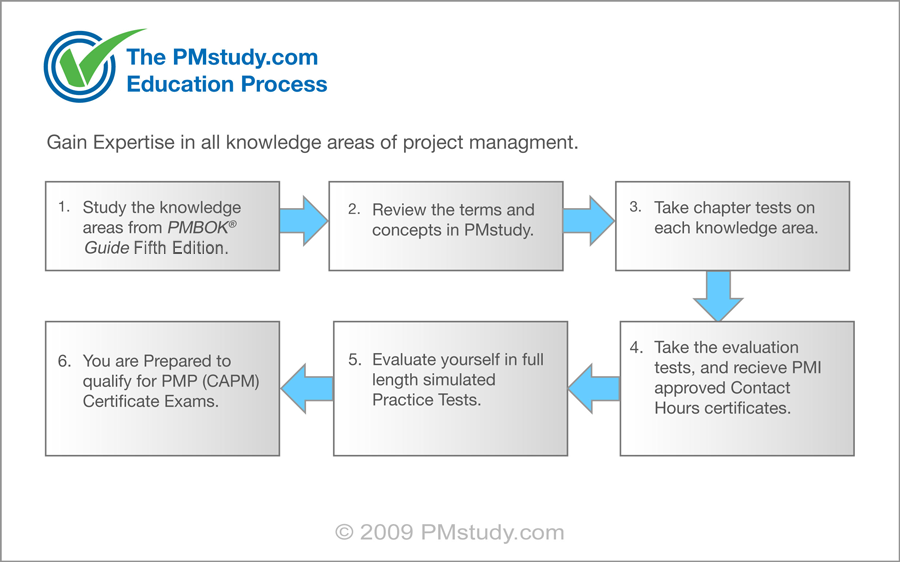 With a Success Rate of 5.3 PMPs everyday and great feedback from successful PMPs, PMstudy a brand of VMEdu Inc is a very effective and economical Training institute program to get PMI® PDUs* and prepare for the PMP®/CAPM® Certification Exams.
Read a particular knowledge area from the PMBOK® Guide - Fifth Edition (www.pmstudy.com/aboutpmbok.asp).
Study the comprehensive study guides and flashcards (of important terms and concepts) for that particular knowledge area. Please note that additional Mathematical Guides will be available for Cost Management and Time Management : (www.pmstudy.com/guidesindex.asp).
Take the chapter tests for that knowledge area : there will be 50 - 90 questions for each knowledge area, which will improve your understanding of concepts in that knowledge area. (www.pmstudy.com/chaptertestsindex.asp).
Do the contact hour evaluation test for each particular knowledge area.



Please note

: www.pmstudy.com is a Mastery series; so, as soon as you complete studying for and getting contact hours for one knowledge area, you automatically get access to the next knowledge area. for example, to begin with you will have access only to "Project Framework Management". Once you complete studying Project Framework Management and getting the contact hour certificate for that knowledge area, you will automatically get access to the next knowledge area, "Project Integration Management". Every knowledge area builds on the concepts you learned in the previous knowledge area. Please, complete steps (1) through (4) for all the 10 knowledge areas and PDU eligible chapters. For a list of knowledge areas and chapters: www.pmstudy.com/pdusummary.asp.
After studying all the knowledge areas, test your knowledge using the 4 full-length simulated practice tests (www.pmstudy.com/practicetestsindex.asp.) These tests are 200 question, 4 hour tests and are the closest you can get to the official PMP Exams, both in format and type of questions.(for CAPM, the tests are 150 question, 3 hour tests very similar to the final CAPM exam). Practice until you get close to 85% correct on all 4 simulated practice tests.
Now you are ready for the official PMP/CAPM Exams.
You can master PMP
®
/CAPM
®
terms and concepts using our Free Mobile App -
Google Play
|
App Store